In the PR world of words, someone has to take care of the numbers too.
While the top 3 PR agencies in the world earn $500M each in total fee income per year, there is still a whole bunch of PR agencies out there that fight for the rest of the $11B yearly industry revenue reported in 2012 and growing. The secret is not necessarily who makes the most, but who manages to be more profitable.
This article might get quite handy on one hand for managers of newly established PR agencies or restructured ones looking to create a pricing model that works, and on the other hand for brands that want to start working with a PR agency and need to understand the pricing options.
Fees of any kind are supposed to be calculate in a way that the PR firm is profitable, including all possible costs (from staff salaries and training to office rent) and a margin.
To give you a ballpark in the possibilities out there:
Edelman PR, which seems to be ranked as number one agency in the world year after year, earned $665,600,000 in 2012, with a staff of 5021 people across all offices. That is $132,563 fee per head. Not bad considering that the median PR agency salary in 2011 was $81,500.
GolinHarris, another reputable agency, earned $175,000,000 in 2012, with a staff size of 735. By using a very simplistic calculation, they seem to achieve the same earning with almost half the staff.
And if we look at another known name, Lewis PR, we will see that they reported $35,819,000 total fee income in 2012, with the contribution of 260 employees.
And sometimes even a small agency of only 34 people can cash out almost $12M in total fee incomes, as it is the example of Davies PR agency in 2012.
Many more examples are available here.
Also worth looking into the uprising niche of tech PR. The aggregated fees revealed in a recent study among tech PR agencies in the UK point to an average of £87,000 fee per head.
But how profitable can a PR agency be?

The Kingston Smith study reveals a 14.2% margin on average for PR agencies in 2013, showing a slow recovery after recession.
On the other hand, this PRweek article reveals a study on top 150 PR agencies that shows a weighted average profit margin of 17% in 2012, with the top scorer reaching a profitability of 69.2%.
A desirable profit margin for a PR agency is usually 15-20%. And agencies should aim to have a sustainable margin, meaning it shouldn't be based on underpaid staff or screwed clients that will for sure backfire.
In the entire history of PR agencies, we've seen quite a lot of variety when it comes to charging clients: retainers, hourly rates, project-based fees, payment-by-results and a la carte pricing. They all come with advantages and disadvantages for both PR firms and clients, so let's explore them in detail, shall we?
Retainers
Most PR agencies prefer to charge retainers, which are basically a fixed monthly or quarterly fee charged for a contractual commitment of minimum 6 months. Most of times is paid in advance.
It ensures clients of a certain level of services during the contractual time and the basis of calculating the time to put into a client's PR is a simple calculation: hourly-rates multiplied with estimated time taken to deliver the agreed services.
Sometimes, the working hours for a client will be higher than estimated, but it balances off with times when there is less to do around the account. And overall, it ensures some stability to the agency which can cater now for longer term goals and can cover day to day activities.
It is usually prefered by clients that trust the agency and see the value in long term PR activities.
Boutique PR agencies are the ones that charge the lowest retainers, usually ranging between $2000 and $5000 in the United States. Retainer fees for startups tend to range between $5000 and $10000. And big names in the PR agencies world have retainers starting at $20000 per month.
"We have some clients that pay us $100,000 or so per year, some clients that pay us more than $100,000 per week and many clients that pay us $100,000 or so per month." says Mark Hass, President & CEO of Edelman United States. Other agencies declare they have retainer fees ranging from $5,000 to $50,000 per month.
Hourly rates
Another very common pricing structure is charging hourly fees and billing at the end of each month. Different members of the staff have different hourly rates depending on seniority.
Hybrids between retainers and extra hourly fees also tend to pop up. This means that there are some commited basic activities, and whenever there are spikes of work needed to be done for the client, he/she gets an extra bill for the extra hours.
Some insights on the hourly rates used by PR agencies are presented on bulldogreporter.com, revealing average billing rates in 2012 ranging from $111 to $356 depending on seniority level: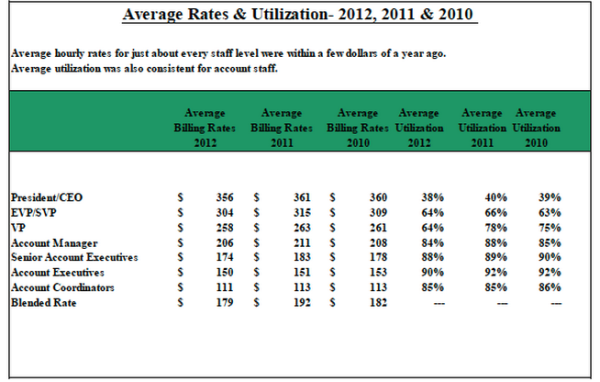 (The research was done by Rick Gould of Gould+Partners)
Project-based fees
They usually occur around launches, events and campaigns. It is a short term commitment with very clear goals, so brands that are not used to work with a PR agency are more likely to approach one for these situations. The payments might need to be in advance, or there is a mutually agreed payment calendar in installments.
Payment-by-results
Usually consist of a basic fee plus a success fee. The latest is charged for certain gained media coverage through the PR efforts, also known as pay-per-placement. This is the option most appealing to clients that are skeptical to PR and are all into proven ROIs.
It is risk free for the client, but it can get quite pricey if the agency manages to get a media mention on a highly ranked publication.
However, it is not so risk free for the PR agency. As it turns out, some media started to red flag this kind of agencies. An example is TechCrunch that rebelled against the model in 2012, when they heard that a PR agency called PRserve was charging their clients $750 for a media mention on their website.
TechCrunch wrote an article describing their issue with the pay-by-result fee model, titled "You can't put a price tag on a TechCrunch article".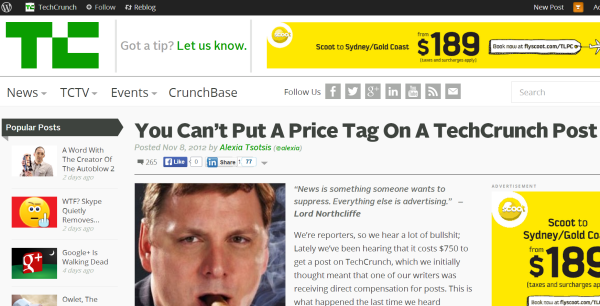 "While we're not in the business of advising PR people on their pricing, we think that making press coverage this transactional crosses an ethical/editorial line and diminishes the integrity of our brand and our writers.
Startups and investors, you shouldn't be paying for TC articles, or any press coverage for that matter, you should be paying for the help with your message and communications, which, if you have a good and/or compelling product, might result in more coverage.
And while a (legit) PR team can be useful in many cases, a direct and fair relationship with our writers is always the best way to get on TechCrunch." is a quote from the said article.
In any case, payment-by-results can range from a couple of hundred dollars to $1000 or more depending on the reach and reputation of the media that covers the story. But treat this method with caution, as we stated previously.
A la carte pricing
PR agencies can include a la carte prices, especially for specialized services like writing press releases, producing videos, setting and managing social media campaigns etc.
A good example of a PR agency charging a la carte can be found here.
Expense budgets
Whatever form they take, usually the fees don't come alone, but are accompanied by a PR budget for expenses. These can include video production, infographic design, market research etc. Stuff like media entertaining (brushing the relations with the media over a lunch or so) might also appear on the list.
The expenses with third parties can also get adjusted with a service charge by the PR agency. That is because all purchases and contracted services fall into the responsibility of the agency (financially speaking too).
Sometimes, there will be no need for third parties if the PR agency also offers additional specialised services like design, video production etc. They usually fall into the a la carte category and have clear prices.
For both fees and expense budgets, the best advice for PR agencies is: never have hidden costs. Everything should be transparent, from the hourly fee of the juniors and seniors up to the service charge.
Unanticipated costs are also not welcome (and a proof of lack of planning or even experience), although an ongoing transparent communication between the agency and the client might solve some issues.
For these expenses, PR agencies usually charge mark ups. It is a practice to add a percentage of up to 20% to the budget expenses, compensating the agency for the time between paying the bills to the third parties and getting reimbursed by the client for them.
Where to?
While the top barely changes from year to year, there are thousands of PR agencies world wide fighting for the clients budgets. Performance and reputation can influence greatly the stretch the fees can have, while efficiency is a great contributor for profitability.
Aiming to cut on duplicate work and lack of synchronization between agency staff and client team, FINN PR agency developed Mustr – the easiest media database. It allows both PR agencies and in-house PR pros to save their time on media relations with a cloud-based database with adequate filters and mailing possibilities.  Give it a try to increase your efficiency!