For those of you who still wonder how can your creative PR work targeting people get along with the seduction of search engines algorithms, then look no further! Here is basically everything a PR pro should know about SEO (Search Engine Optimization) – no more, no less, and headache-free.
PR and SEO – the beauty and the beast
Public Relations' beauty relies on interacting with different stakeholders and your work goes all the way from strategic to creative and back. Incorporating any technical aspects that are due to seduce lines of code – for sure doesn't appeal you! And that's not what you were taught how to do.
But we are living times of "the revenge of the nerds" and any communicator needs to polish up one or two technical skills nowadays. That's simply because while our readers and customers have technology at their fingertips, the people behind the brand can benefit from better insights and more communication channels.
Part of your audience is for sure looking up for solutions to their problems or needs and cravings on Google. And since the entire world produced in the last 2 years alone more data than in the entire history, and while content marketing is becoming trendy among companies, it is getting quite difficult to stand out. And your usual charisma over the press and awesome stories are going to leave Google unimpressed.
Little did you probably know that with a few tweaks on your work, you can achieve success with both people and algorithms. Want to get your brand and its stories on the first page of Google when people are searching for related topics? Sure you do.
Most PR professionals and Communicators get quite reluctant to dive into SEO simply because it seems complicated, although you know the benefits already: getting more exposure to people that are looking for you and your competitors.
Here is something that might help your esteem with SEO for PR: you were doing it already! SEO experts use one main technique to improve their results: getting covered on media and other websites. Whenever someone mentions your brand online (especially on place with high authority like big media), the brand's website becomes more and more Google's favorite.
So there you go, you are an SEO expert already. You've been doing this quite successfully for quite a while. Here is a proof: use Monitor Backlinks to get a report on how your media mentions helped the company's SEO (for both previous mentions and alerts of new mentions).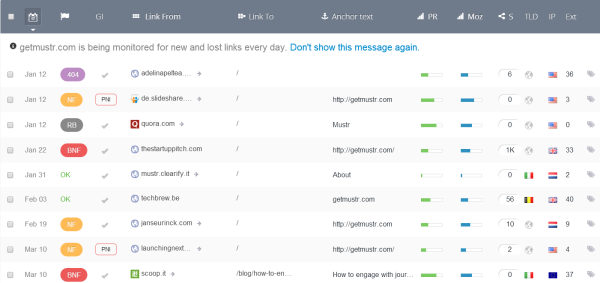 However, there is a little more to it. This article will make you an expert on everything you need to know about SEO in Public Relations without any headache and avoiding all slang.
Shall we?
What does the fox say?
You'are used to spice up your press releases with fancy words and expressions. You would say "affordable air travel" over "cheap plane tickets". Sounds better, but there are 10 monthly searches for the first variant versus 60.500 monthly searches for the second one.

May we introduce you to your Thesaurus replacement: Google Adwords Keyword Planner. This free and easy to use tool will put a spotlight on the expressions with most search volume in the world or in a specific location.
You can either test if the descriptors you planned to use match the way people search or you can get suggestions with more search volume based on your initial thoughts.
Also mind that you must use the exact expression, you cannot add any word in the middle of it, or plural (if pointed as singular) or dashes.
Next time you write a press release, make sure you slow down a bit in creativity and fancy language and you present the product or service by using your potential customers or users way of speaking. Yes, journalists might flip the words, but you still have more chances to have your press coverage matching the exact words that get the most search traffic.
When you master that, you might want to tap into Google Trends too for satisfying your long term strategy for communications. This free tool will show you graphs of the interest over time for a specific word or expression. You can see if the interest for it goes up or down, or if there is any seasonality.

This example shows how there is a clear seasonality for hotel booking searches: highest in July and lowest in November no matter the year. So you might want to plan your PR activities accordingly to match people's interest.
Google in Press Release Wonderland
Whenever you publish your press release somewhere, especially on news rooms and press release distribution websites, you might want to take care of a few aspects.
At the end of July 2013, Google made a few changes to its algorithms and started punishing press releases made by PR pros that listen too much to fake SEO experts, a.k.a. those press releases that have too many links to the company's website on generic words inside the text.
So if you add links on 10 generic words and expressions like "hotel booking", "plane tickets" and so on, instead of just pointing the link to the website at the end or linking it to the brand name, Google will not like it. 

Also, tell your SEO colleagues to give you a break in editing the press release according to "best practices in SEO". Google doesn't take into account optimized links from press release distribution websites. It only takes into consideration those links in articles re-written by journalists. This was a measure taken to solve the problem of duplicate content because press release distribution websites "help" do exactly that: having the same press release or parts of it in more places.
Here are some recommended resources on this topic, if you want to further explore or have a proof to show your colleague:
And they lived happily ever after
As companies are demanding more and more SEO services, it seems that PR agencies are stepping up to offer integrated services of both PR and SEO. A study by PRCA shows that 72% PR agencies now offer SEO.
We hope that this article shed some light into what is there to know about SEO as a PR expert. Curious to hear your stories about PR and SEO – what have you been through to make the two mix?