Twitter is definitely the place where journalists hang out to do their job. To be more specific, in 2013 there were nearly 60% of journalists on Twitter. And it is their preferred social media channel by far to be contacted by PR professionals, 85% of them considering being approached for PR purposes welcome on twitter.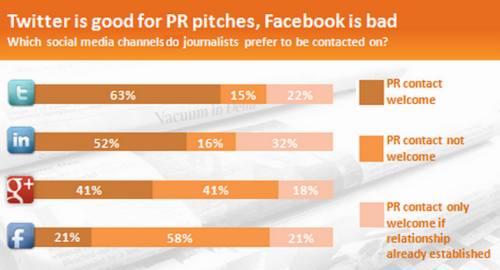 (source: Text 100 Public Relations)
So you, our dear PR pro, should master the way you use twitter to achieve better PR results. We have prepared for you this guide on how to engage with journalists on twitter, offering plenty of case studies, tools, advice and examples.
Read on and prepare your twitter handle to make a difference in the media relations world.
Uhm, which twitter handle?
In order to engage with journalists on twitter, most PR professionals use the twitter handle of the company they represent. In some cases though, they use a special twitter handle for PR purposes, separated from the company's regular twitter handle (that is mostly addressed to customers). It is a strategic choice and depends on many aspects, but it is definitely something you should consider.
With this dedicated twitter handle for PR (or even with the general one) you can follow journalists, engage with them and pitch stories.
In case you choose to go for a dedicated twitter handle for PR, you should also add it to your press releases as a contact. And in case you wonder what type of content you can post in between your news, you should consider also tweeting other industry relevant news.
PRdaily has put together several best practices of companies that use a separate twitter handle for PR.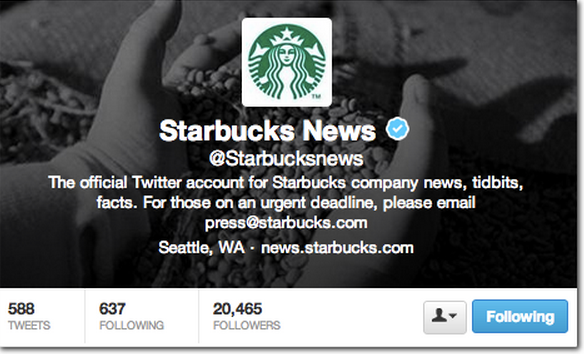 These companies use their dedicated PR twitter handles for sharing their news, retweeting journalists (especially when mentioning the company), mentioning partners, retweeting celebrity endorsers, retweeting the other twitter handle of the company when interesting for media, responsing to journalists' queries and so on. Hope these examples can sparkle some ideas on how you can use yours.
Overwhelmed no more: say hello to twitter's lists and filters!
Of course, joggling with all your PR duties and adding being super active with journalists on twitter can be a bit overwhelming. Especially because twitter requires real-time reactions from your side. But don't worry. There are ways to stay on top of it in an organized way.
Use twitter lists (for free)
You can create or follow twitter lists (a.k.a. groups of twitter handles). This allows the possibility to view tweets only from a specific group of people. Now wouldn't you want to separate the tweets from journalists from the tweets of anyone else?
Just go to the settings button on the top right corner of the twitter page you administrate and go to Lists. Creating a list is just one more click away.
Here is an example of a twitter list, in case you fancy following some tech journalists to follow on twitter: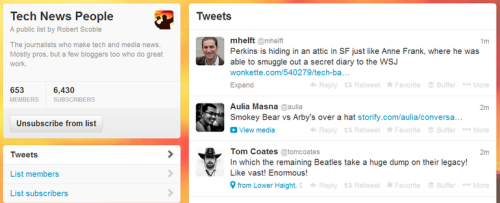 Of course, nobody is stopping you from creating more than one list to handle your media relations. You can split the journalists into those with who you already have a relation and those with who you don't have one yet, but you are working on it. Or you can create different journalists lists by industries or geographical regions. Anyway, don't go too crazy with too many lists. Their purpose is to make your PR life easier, not more complicated.
You can make these lists public or private. If you choose a public list, the people you add to it will be notified – which works as an ego bait, and others can subscribe to the list to receive tweets from the people you added in it.
Use TweetDeck (for free)
TweetDeck allows you to sort your twitter stream and separate it in different columns with the use of filters.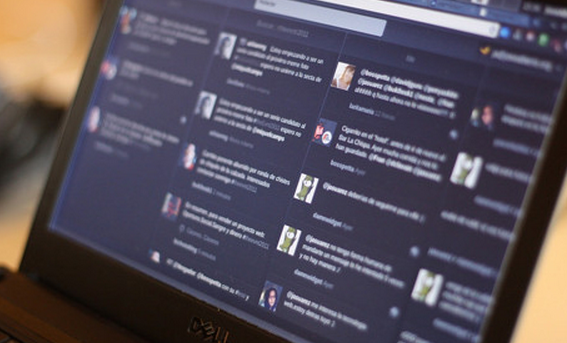 You can personalize your TweetDeck by incorporating any number of columns. These can be organized around a timeline, an account, a search, your @replies, your direct messages or trending topics. You can have a column with tweets from the food journalists you follow, one with tweets from general media where you already have a relationship and so on.
You can respond to Tweets, share photos, post links, send direct messages and reply to multiple users at once. You can also schedule Tweets to post at a specific time or on a particular day. You can also set alerts to notify you of updates.
Journalists on twitter are not needles in the haystack
It is easier than you think to find the twitter handles of the journalists you want to follow and engage with. Let us present you a few ways.
Use existing twitter lists of journalists
Journalists are already clustered in twitter lists made by others. You can either follow the whole lists, or pick some journalists from it and add them to your stream and own lists.
For example, The New York Times has made a list with all the NYT journalists present on twitter: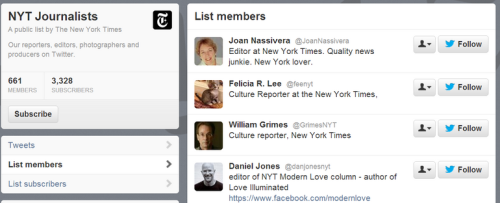 Use the articles you read to get the journalist's twitter handle
Most of the time, journalists place their twitter handles on the articles they write, either in the beginning or the end.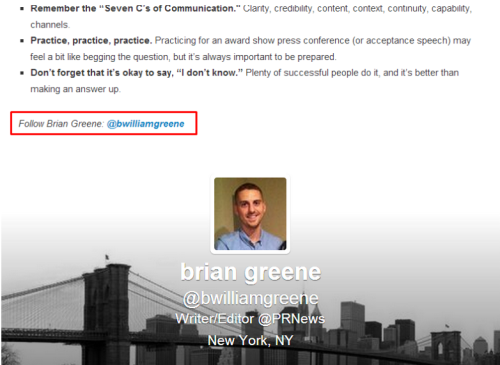 So if you read articles on your industry, better start following their writers on twitter, monitor their needs and engage in conversations. Also check the articles written about competitors and add their journalists' twitter handles as well.
Use presspass.me (for free)
Presspass.me is a free platform now in beta that serves as a directory of journalists and media professionals. The site uses Twitter to track what journalists are sharing and reading, in addition to topics they follow, who gets their attention and who they interact with. It then classifies the journalists by beat, region, and news organization.

Use FollowerWonk (for free)
FollowerWonk allows you to search for twitter bios that contain certain words like "journalist". The results list also contains (and can be filtered by) number of tweets, number of following and followers, longevity and social authority for each twitter handle.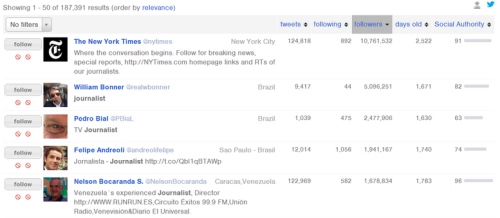 Use… Google
You might also bump into all sorts of lists on the internet as well. For example: top 100 UK journalists on twitter, top 100 Belgian journalists on twitter, 8 food journalists on twitter to follow.
Let's engage with journalists on twitter, shall we?
Just like on any other channel, it takes time to build relationships with journalists and the "bonding" stage should not be skipped directly to "please cover my press release".
Twitter offers a great medium to engage with journalists – this is the place where they are looking for your potential contributions to their queries and for quick interactions.
There are a few things you should know about how to engage best with journalists on twitter, but at the end of the day don't forget that twitter is just one of your channels and you need to have an integrated approach.
Give a hand
The most beneficial for developing media relations on twitter is to help the journalists with information whenever they need it and ask for it. They love people who can help them out do their work.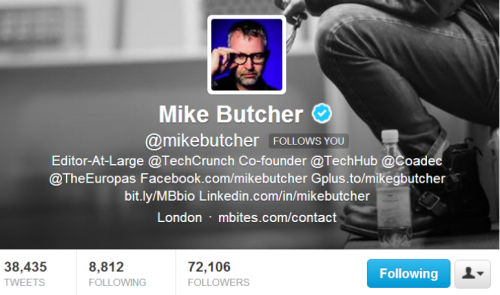 I have a rough list already – but who do you think are the best European VCs/Angels/Investors blogging regularly about investing in tech?

— Mike Butcher (@mikebutcher) January 16, 2014
It doesn't have to be only on your industry, it can be whatever you can help with. Try to position yourself as a go-to person for the journalists when they need information for a story. They always need an expert on a matter. Also, in case you don't have the knowledge to respond to their query but you know someone who might, jump in and make the intro.
A study of over 500 journalists from 14 countries has found that 51% of journalists use twitter to source news stories, provided the source was trusted.
Note that most of the times journalists' queries need to be treated urgently. It is all about the real-time on twitter. So better monitor your feed as often as possible.
Also, help them extend the reach of their stories. Retweets are highly appreciated. Congratulate them on stories they wrote that you like. Be genuine and don't over do it.
"If you're going to retweet someone, don't just click the automatic retweet button; it's a little impersonal. Instead, quote them in a tweet of your own, and include RT and their @ handle. When you do so, tell your followers why this is important, or even simply add an "Amen!" or "I agree."" (source)
To develop these relations take time, but once they are created and strong, they will benefit the business for a very long time.
Pitch in 140 characters
Time has come to release those newsworthy stories and updates from your company? As we already mentioned, journalists on twitter are open to receive them. Right there, on twitter. So juice the essence out of the news to make it fit the 140 characters and pitch it to them.
Tweet-pitch only to journalists you developed a relationship with and that care about your company and its stories. Don't jump the steps of listening to them, making yourself useful and getting on their radar before coming up with pitches.
"One day, follow them. Another day retweet them. Then eventually ask them for something. But if the first time they ever hear from you is a request, they're more likely to ignore you. … You give a little Twitter love first before you make a request." (source)
Careful with this tactic though. Anyone can see your feed and it is not nice if you pitched one hundred journalists at once (especially with identical tweets) or if you only pitched one and ignored the others. In case you want to avoid this, you might want to send Direct Messages to journalists. As of Oct13, Direct Messges can be sent also to people who don't follow you back. But again, treat this with care.
If you have a dedicate PR twitter handle and you are mainly followed by journalists, then use https://followerwonk.com/analyze to check what are the times they are active on twitter, in order to define the best times to tweet your news and stories.
If you nailed an interested journalist, don't go back and forth with replies, but move the conversation to emails.
Use hashtags
Hashtags are a great way to relate your tweets to a wider topic or trend. It also helps your tweets to be easily found.
When organizing events, have clearly defined and promoted hashtags. Inform journalists in advance about the event hashtag, maybe even put it on their badge.
Use Vine
Vine is a free mobile app that allows creating and sharing 6 sec video loops on twitter. This can put your creativity at test, but it is definitely worth it since Vines grasp more eye balls on your tweets and increases their chance to go viral.
You can use it to tease major announcements, promote new features, showcase testimonials, promote short statements of the CEO, behind the scenes etc.
Example:
Vines make your tweets more visible and can also be embedded by journalists in their stories. It is definitely a great way to get the journalists attention on twitter, and even the attention of your market.
Synchronize breaking news with company's news
If you also keep an eye on breaking news on twitter, you might also jump in with your company's news that are related to the matter. The secret again is to be quick in reactions and turn favorable contexts into PR success – just like you do on all the other channels.
If you have any useful and interesting case studies to share with us and the PR community, please do. Comments are open.