We developed Mustr because we wanted to create a beautifully designed, easy to use PR tool that cuts out a lot of tedious and time consuming chores that PR professionals still face (like copy-pasting e-mail addresses, resizing pictures, digging in Excel sheets for the right media contacts).
All of which explains why we're very excited to announce the launch of our new, improved press release feature. As of today, you can send gorgeous looking, responsive press releases directly from Mustr.
Here are a few reasons why press releases look better when they are sent from Mustr:
The mailings are designed for optimal readability. No frills design! This makes sure that journalists can quickly scan your mail and get the information they need.
You can upload high resolution images to to be included in your e-mail. A large preview of the picture will be to the e-mail, with as much room as you need for extra information about copyright, pricing and subject.
We added a big "DOWNLOAD" button that makes it clear that journalists and bloggers can download your high res images.
You can also upload attachments (like press kits) as a file and enclose them in your e-mail.
Mustr e-mails are fully responsive. That means they can be read on any device: desktop, iPhone, Android phone, tablet, whatever.
As you can see in this picture, Mustr offers the easiest way to send dozens of high resolution pictures to journalists, all clearly labeled, tagged and enriched with information and easily readable on any mobile device: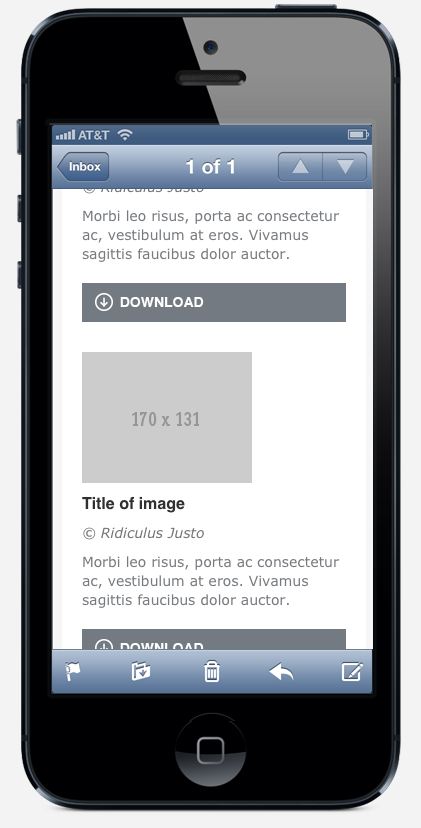 There is no quicker or more powerful way to send out press releases.
The easiest way to send press releases
As with all Mustr features, creating and sending a press release is a simple, 3 step process:
Create a "Project"
Select one or more groups of journalists and/or bloggers that you want to target
Create the e-mail with pictures and attachments like you would in Gmail or any webmail client (don't forget to press "send")
Done!
The responsive mailing tool marks the end of the first phase of Mustr: all the functionalities are now in place, and we can now begin to make them better, faster and more productive for you. For that, we need your help.
Make Mustr better: be in touch!
How can you help us? By talking to us and telling us what you need or want from a PR tool! Our goal is to make Mustr hands down the easiest way to manage your relationships with journalists and bloggers. If we are not living up to that promise, let us know, and we will get better. If you have any questions, feel free to shoot us an e-mail, or visit our FAQ or our YouTube channel with tutorials!
Is this the first time you've heard of Mustr? Take a look at our product tour.